SMART CITY STRATEGY
Driven by the need to better adapt the city communication and services to the interests and behaviour of its users (citizens, visitors, civil servants, businesses and other organisations) the City of Antwerp stated its ambition in 2013: each user should have easy digital access to the city, in the most personalized and relevant way – to get informed, to apply for services or to get inspired – where, when and how he/she wants. Currently Digipolis and the City of Antwerp have established the Antwerp City Platform as a Service (ACPaaS) that connects and discloses relevant operational city-owned and city-linked systems. In addition, with the IoT initiative, "City of Things" (CoT), Antwerp demonstrates its ambition as a Smart City. The CoT fits within the vision and ambition stated earlier. It enables Antwerp and its local ecosystem to explore, pilot and validate new innovations in for example the domains of mobility and logistics and environmental wellbeing. It provides data to policy makers (environment, mobility), our local ecosystem (IoT technology validation, big data insights, living lab evaluation) and experiments (by means of an IoT-Big data testbed) and links up with the cities own ICT infrastructure and data centre.
CITY CHALLENGES
Mobility: the main challenge is how to establish a 50/50 modal split in the Antwerp region by 2030. The city of Antwerp is looking for solutions that help to achieve:
– a modal shift from cars or trucks to more sustainable and less congestion-sensitive modes.
– a time shift for trips and transports.
– a mental shift about the need for mobility
Both cycling and multimodal trips might help to bring about a modal shift with commuters and logistic companies, while having a very positive effect on air quality and noise levels.
Energy and materials/environmental management: the city of Antwerp wants to be an exemplary 'ecocity' and aims to be climate-neutral by 2050. The city of Antwerp is looking for solutions that help to achieve:
– Climate change/CO2-neutrality by 2050.
– Climate adaptation.
– Environmental quality (air quality/noise pollution).
– Circular economy.
– Waste management
CONTRIBUTIONS OF IOT SOLUTIONS TO SOLVE THE CITY CHALLENGES
As listed above, there are many challenges to face. Mobility solutions arise for example in optimising and monitoring of all types of traffic flows. They also lie in the stimulation of different transportation modes, multimodality, smart port and industry, and so on. Furthermore, the city of Antwerp wants to be a CO2-neutral city by 2050. It is becoming increasingly clear that new technologies such as Internet of Things (IoT), artificial intelligence (A.I.), robotics, blockchain, etc. play a crucial role in the transition. For example monitoring various environmental parameters with IoT applications, better separation and recycling techniques (reduce, reuse, recycle) by A.I. and robotics, optimizing the logistics flows via blockchain, etc.
RELEVANCE FOR THE CITIZENS
The population of Antwerp totals 524. 501 inhabitants, which represent close to 8% of the total Flemish population. The population is very diverse, as Antwerp counts 169 different nationalities and 48% of the city's inhabitants have a migration background (2017). Also, the population is on the rise. Over the last 15 years the Antwerp population increased with more than 50 000 inhabitants, and projections show that this trend will continue. The city is clearly an attraction pole, but at the same time this poses challenges relating to densification, traffic, housing and the provision of services.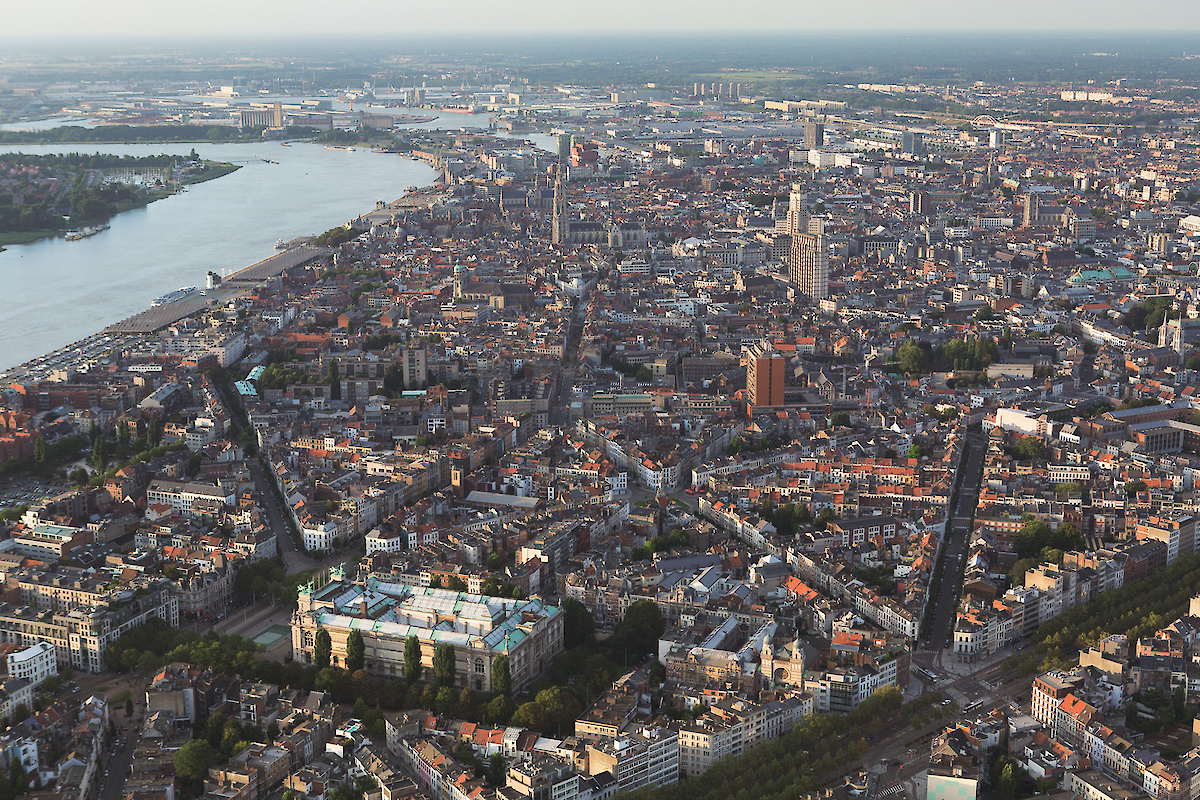 ANTWERP KEY ACTIVITIES
CITY OF THINGS: is a collaborative initiative from imec, the City of Antwerp and the Flanders region to turn Antwerp into a living lab where businesses, researchers, citizens and city officials can experiment with smart technologies. In one selected area 'Smart Zone' a fine-grained network of smart sensors and wireless gateways is being installed.
SMART WAYS TO ANTWERP: the project of Smart ways to Antwerp emphasizes all the mobility solutions citizens will need to get around easily in the city. The website and app help to plan routes through a unique multimodal travel planner. The planner will alternate different transportation modes in one traject. The different mobility providers in the city are asked to share their data so the travel planner can take as many options into account as possible.
Antwerp City Platform as a Service: in 2015 the economic climate was an important reason to think radically about software development for the Antwerp city group. That and the fact that you can develop scalable and future-proof solutions using microservices made the selection of an Antwerp City Platform as a Service an obvious one. ACPaaS is a collection of reusable blocks of software or engines such as notification. It also comprises new technologies such as IoT and AI.
SELECT for Cities: how can the city reinvent itself as a large-scale Internet of Everything Lab where everyone can build, test and validate their own innovative solutions? Antwerp, Copenhagen and Helsinki launched this innovative challenge for European businesses via the European programmeSELECT for Cities. It is searching for new solutions to create a state-of-the-art, large-scale citywide IoE platform to assist cities in developing, testing and validating innovative smart services and solutions
WANT TO KNOW MORE?
Emilie Couwenberg
City Representative: Antwerp
Emilie.Couwenberg@stad.antwerpen.be